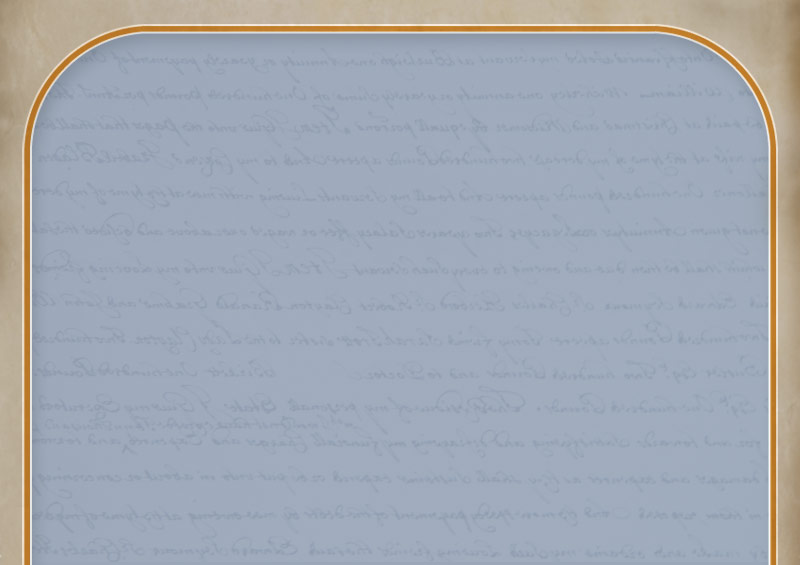 Dose glasses

Dose or dosage glasses were usually give-away items provided by drugstores and pharmacies to their prefered customers. Though available with advertising by the 1850's these early glasses were quite rare and dose glasses availabilty grew only with the advent of the slug plate mold in the late 1870's which allowed the glass mold to be reused for many different orders. Glasses during the early years were in a small or large shot glass form with embossed lettering. By the turn of the century glasses were also being etched with the proprietor's names and addresses. Later during the 1910's embossed conical and spoon type glasses were being utilized. By 1920, embossed glasses had virtually disappeared but etched dose glasses continued well into the 1930's. Later versions were stouter than their earlier counterparts and could be found fluted or enameled in white or colors. By the 1940's the etched glass had been replaced by ACL glasses with applied colored labels. Today dose glasses can still be found attached to some common medicine bottles such as NyQuil but they are now made of plastic.

Top dollar paid for embossed shot glass type from Alaska,

Hawaii, Idaho or South Carolina to complete 50 state collection!

Wanted: Any type glass from Alaska, Arizona, California, Colorado, Hawaii, Idaho, Montana, Nevada, New Mexico, Oregon, Texas, Utah, Washington or Wyoming. Also, Territorials, Prince Edward Is. and fancy picture glasses from any state. Quality pharmacy bottles from same states and all territories as well as ones with color or with unusual pictures!




Western, Territorial  & Colored Pharmacy Bottles

Embossed pharmacy bottles like their dose glass counterparts became popular in the late 1870's and were utilized until around 1920. Of particular interest to us are those used in the western United States and Territories. Bottles with color, fancy pictures or from small towns are usually more desirable than those from larger cities and rarity plays an important part in establishing value.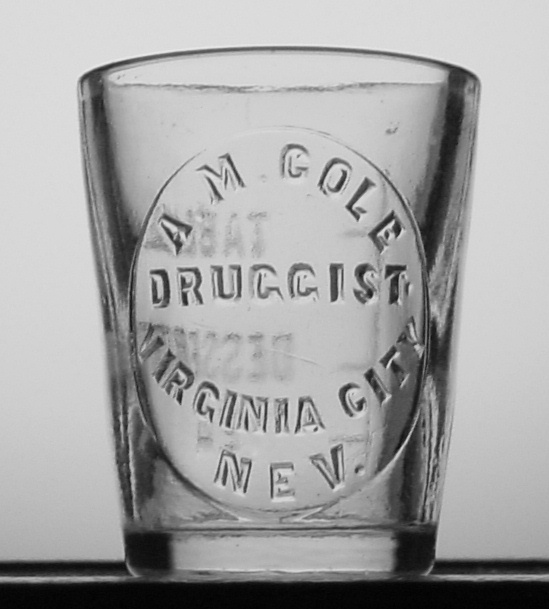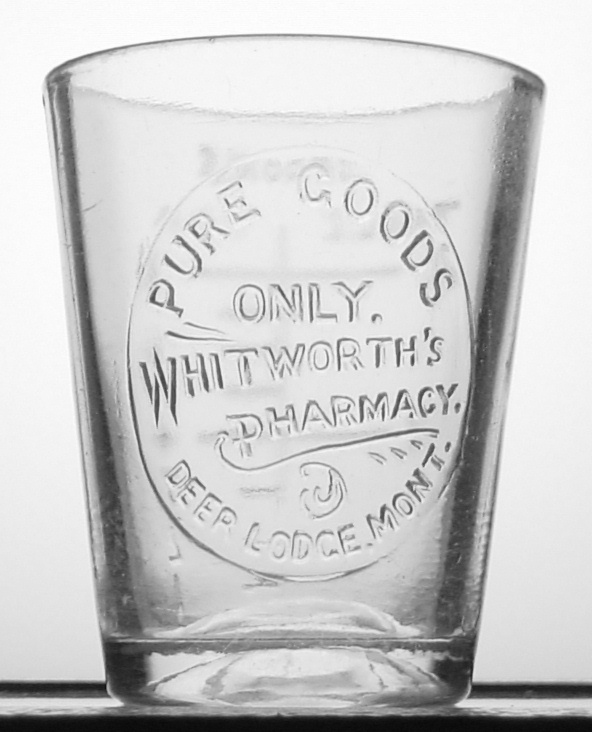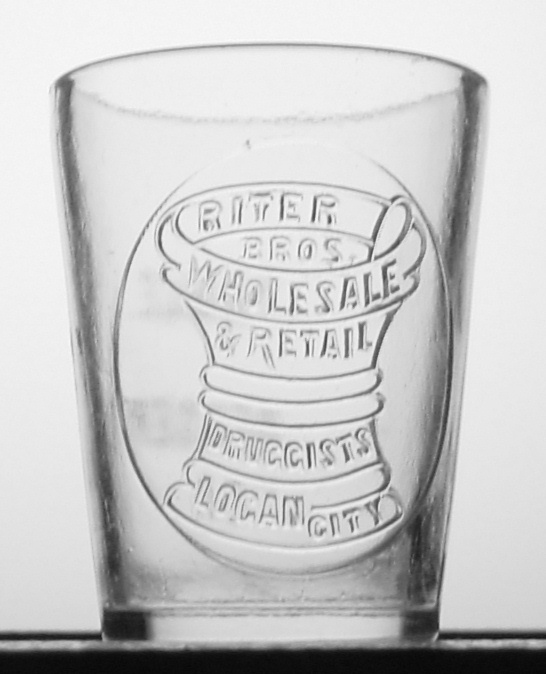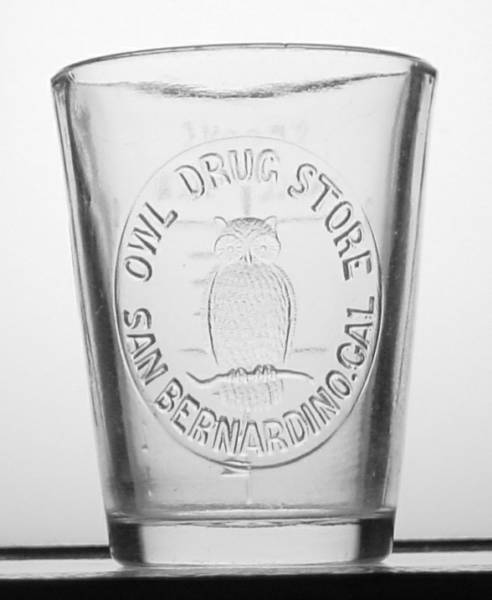 Shot glass type dose glasses (Late 1870'S - 1910)

  Virginia City, Nevada


  Deer Lodge, Montana


  Logan City, Utah

     San Bernardino, California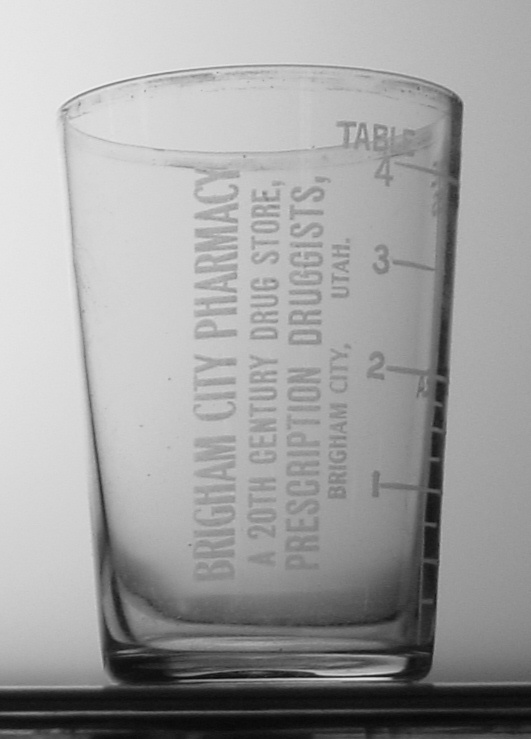 Early Etched Style Glasses (1900 - 1915)

   Brigham City, Utah


  Dangerfield, Texas


      Pocatello, Idaho


    Bozeman, Montana
         Conical Style Glasses (1910 - 1915)





  Spoon Type Glass (1910 - 1915)
    Eugene, Oregon


   San Francisco, California





    Texarkana, Texas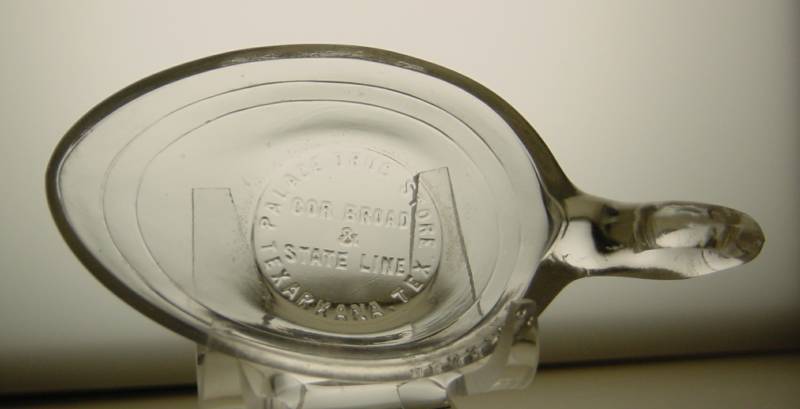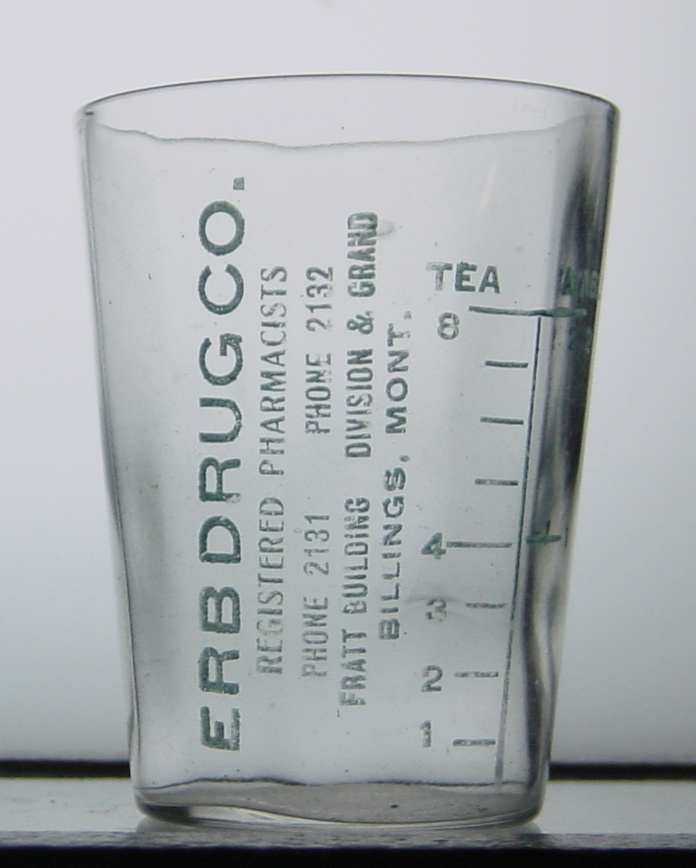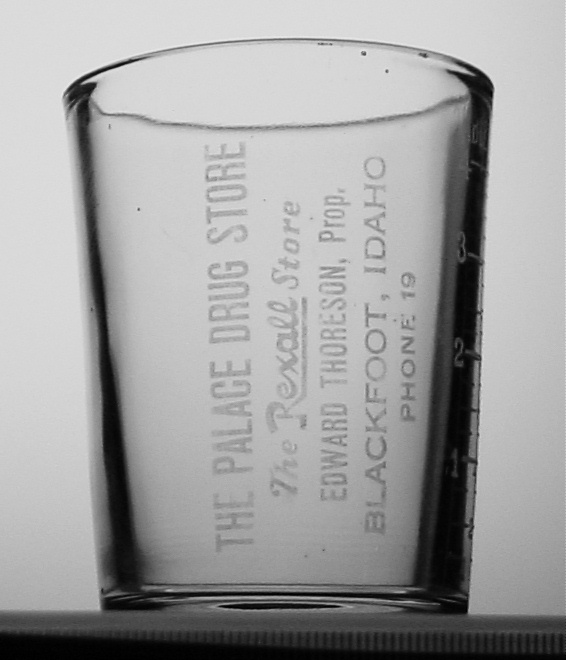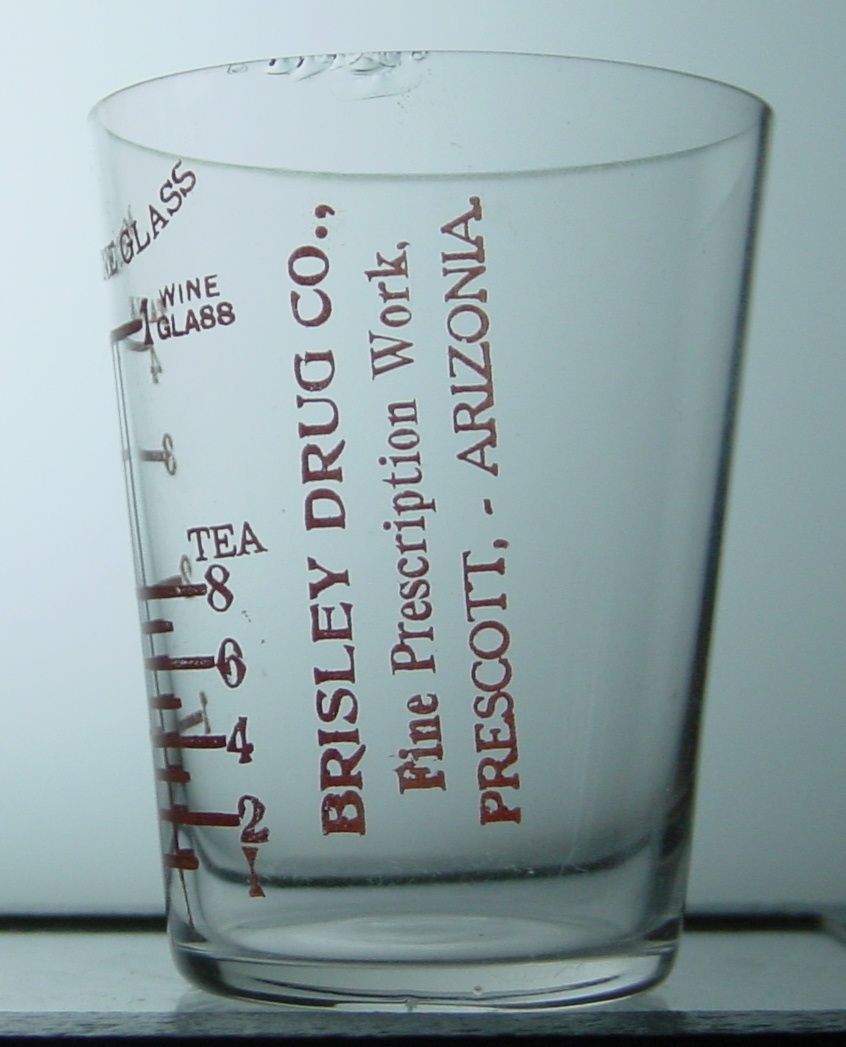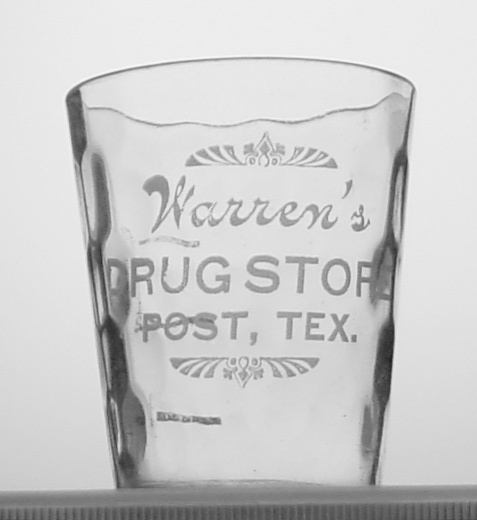 Later Etched Style Glasses (1915 - early 1930's)


Blackfoot, Idaho




Post, Texas



  Prescott, Arizona


  Billings, Montana
  (Hazel Atlas type glass)

    (White etched w/ dimpling)

        (Red etched)



(Blue etched)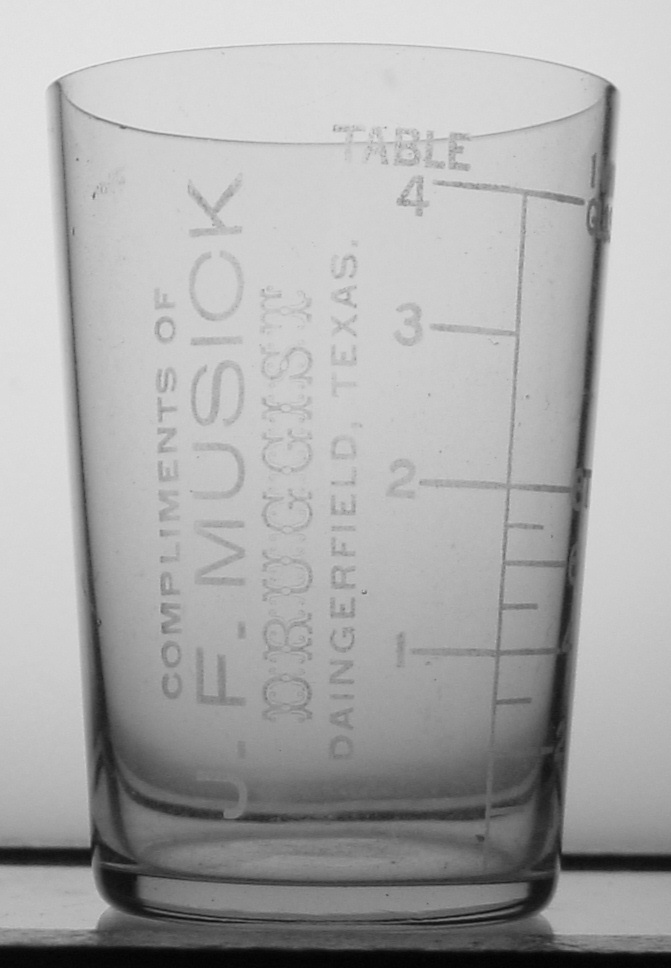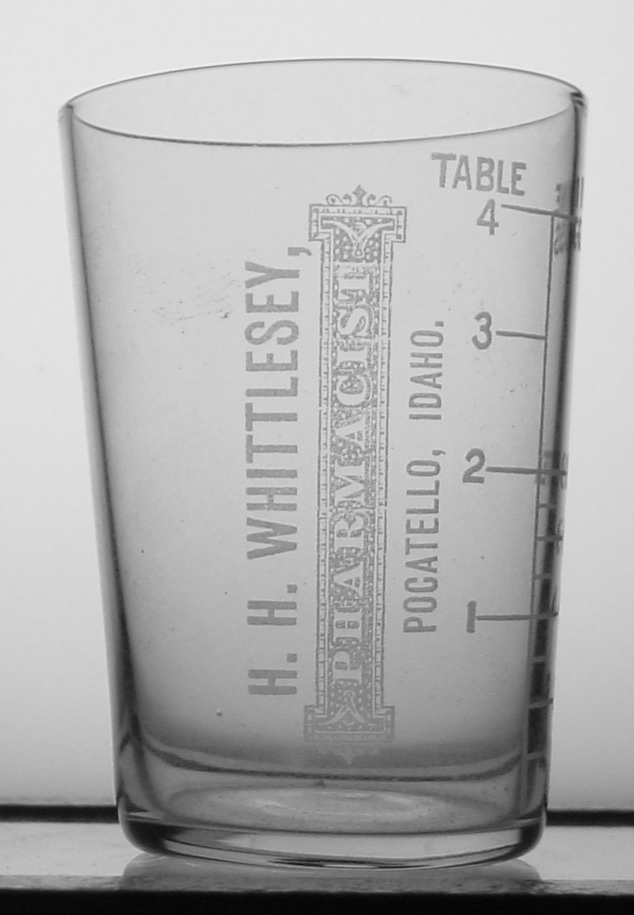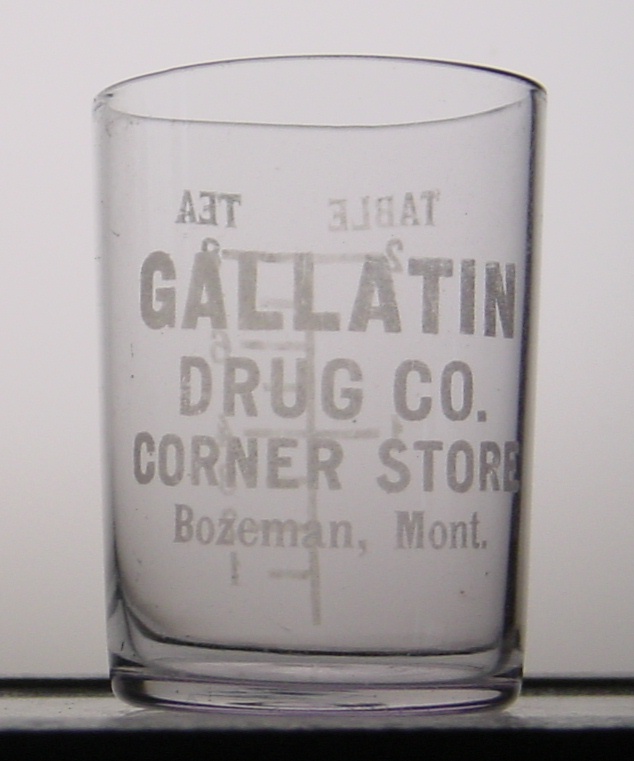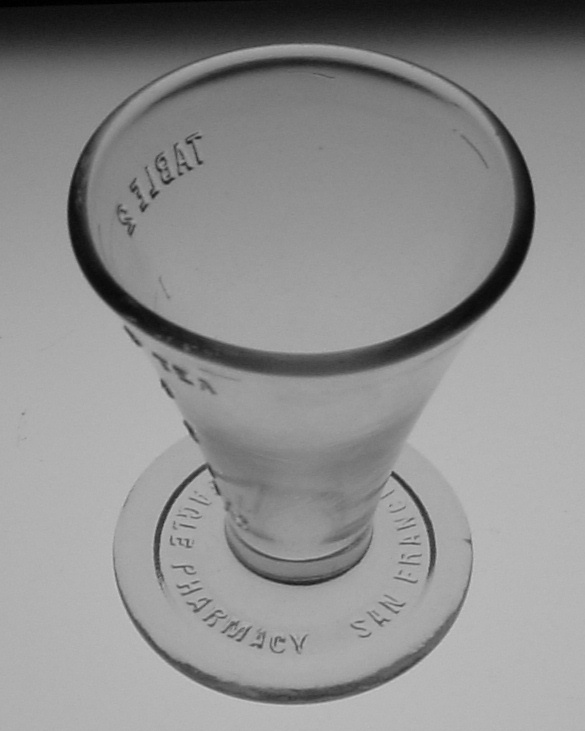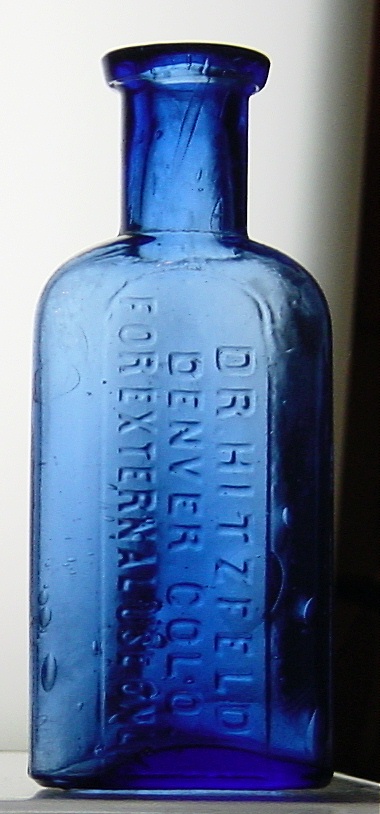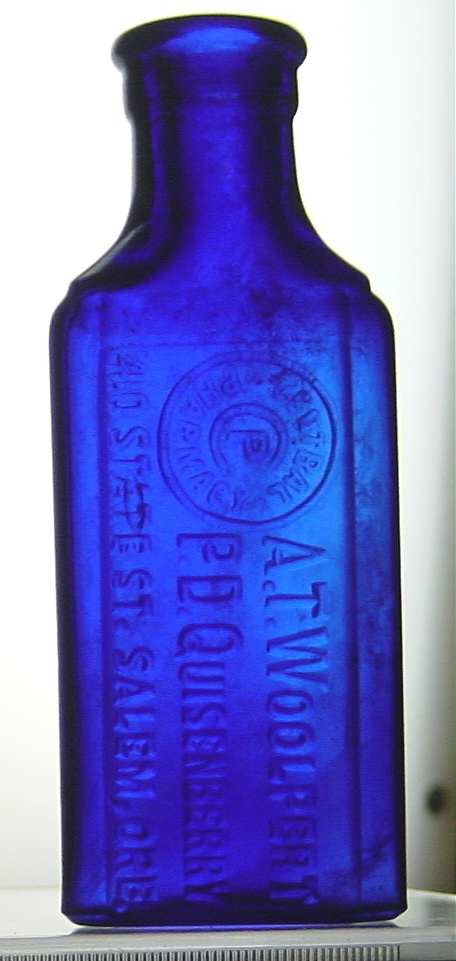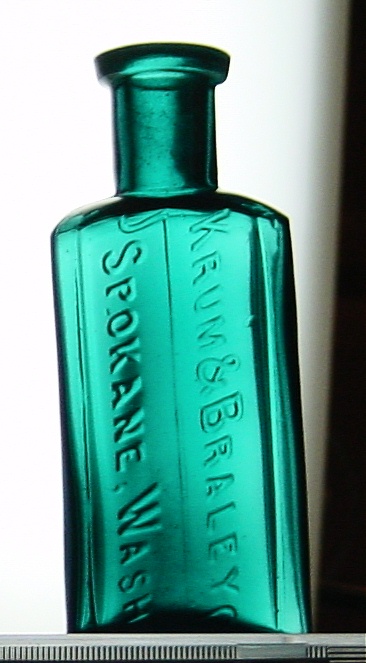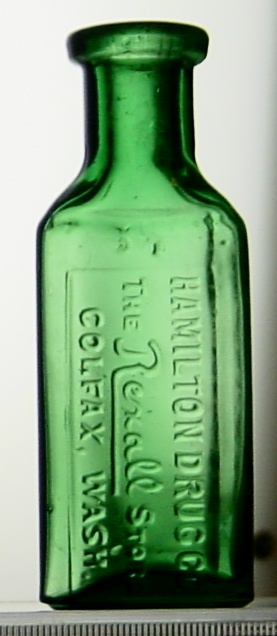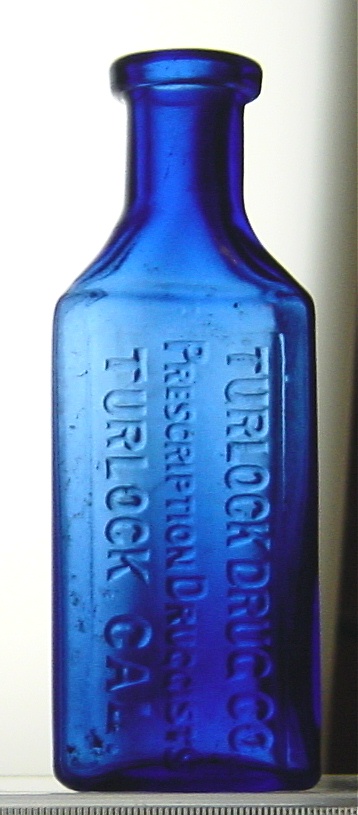 Western Colored Druggists

Salinas, California  

                   Salem, Oregon                             Colfax, Washington




Denver, Colorado





Spokane, Washington




Turlock, California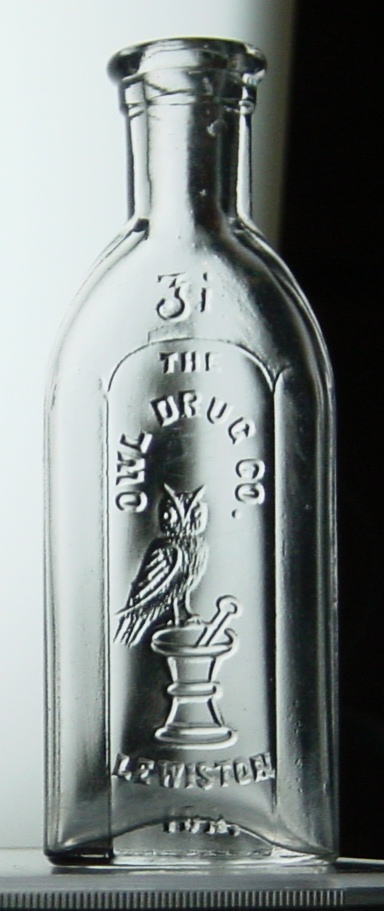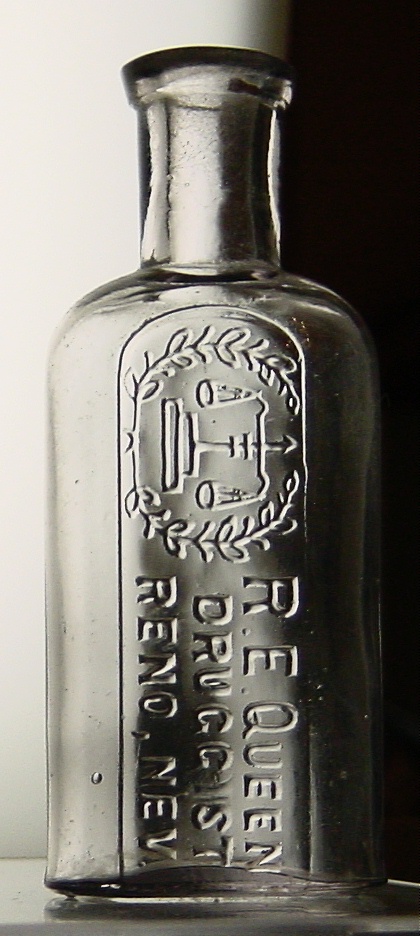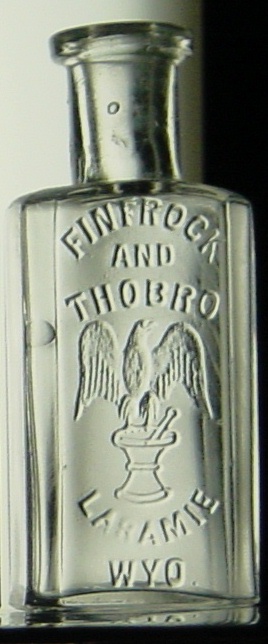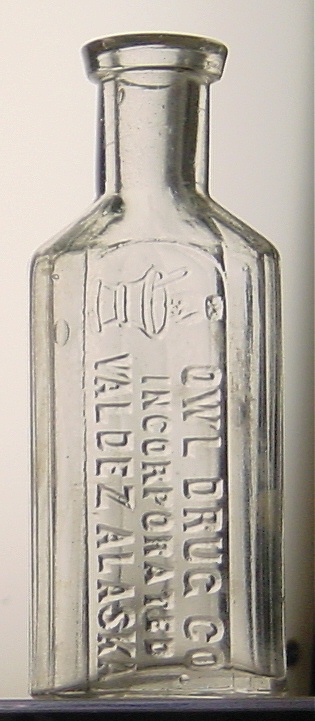 Western Picture Druggists

Lewiston, Idaho       

             Lordsburg, New Mexico                          Valdez, Alaska




   Reno, Nevada





  Juneau, Alaska




    Laramie, Wyoming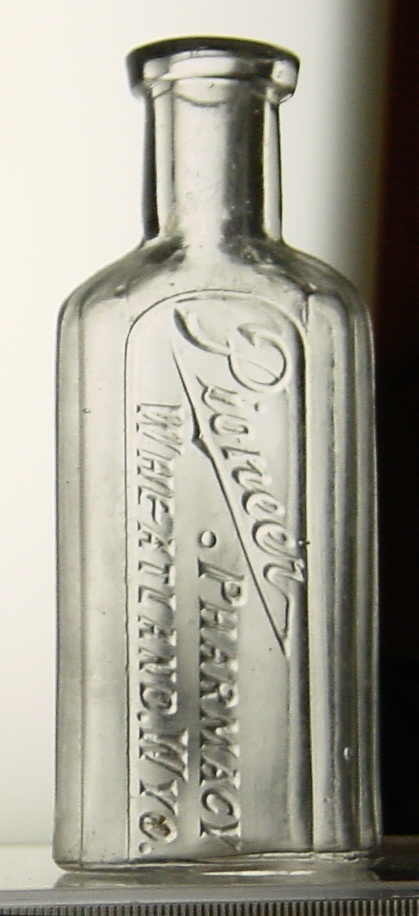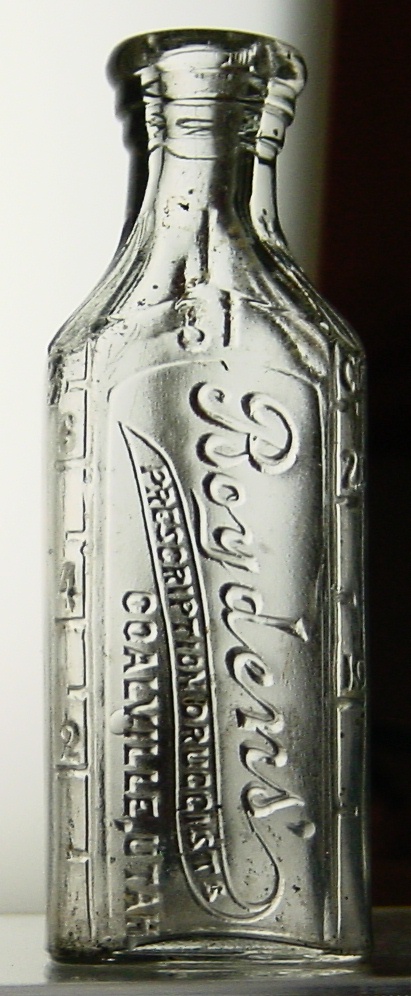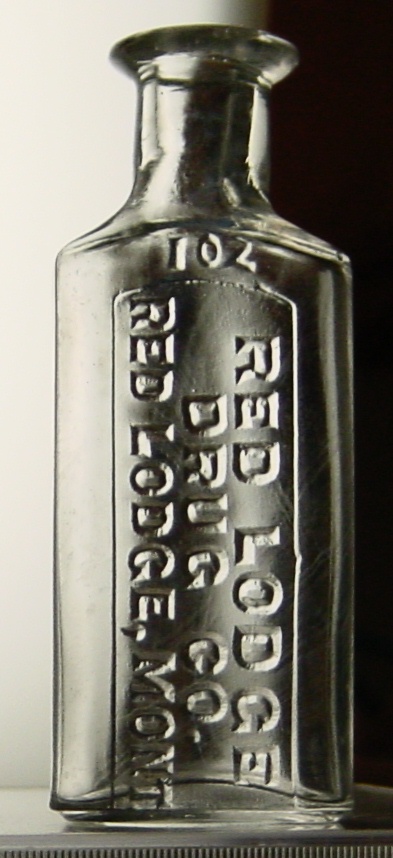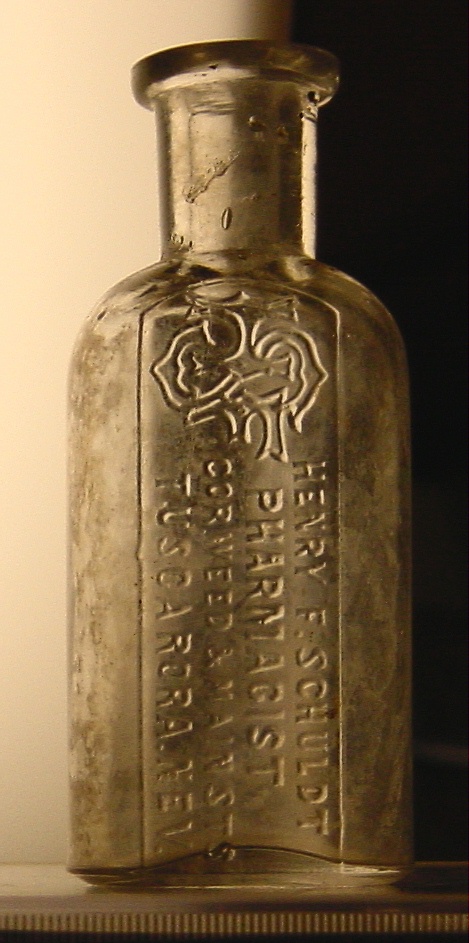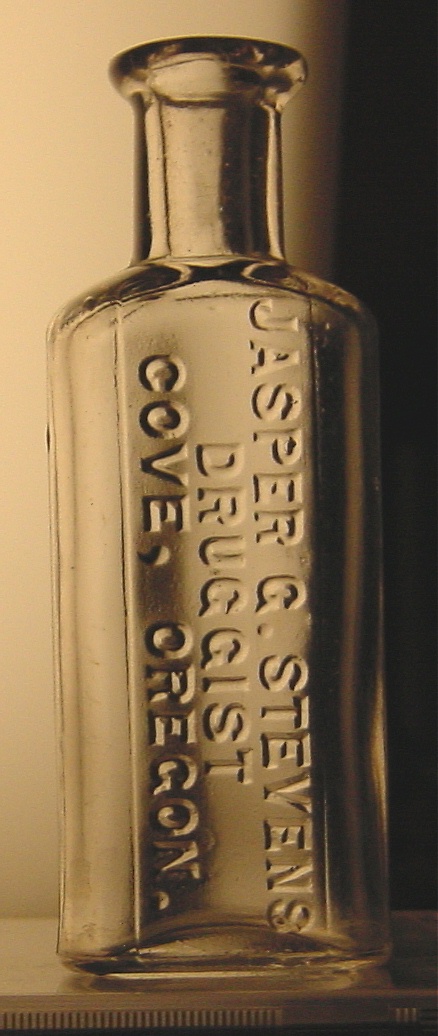 Small or Rare Town Druggists

Casper, Wyoming                Wheatland, Wyoming                  Red Lodge, Montana




Cove, Oregon


      Ashton, Idaho




Coalville, Utah




Tuscarora, Nevada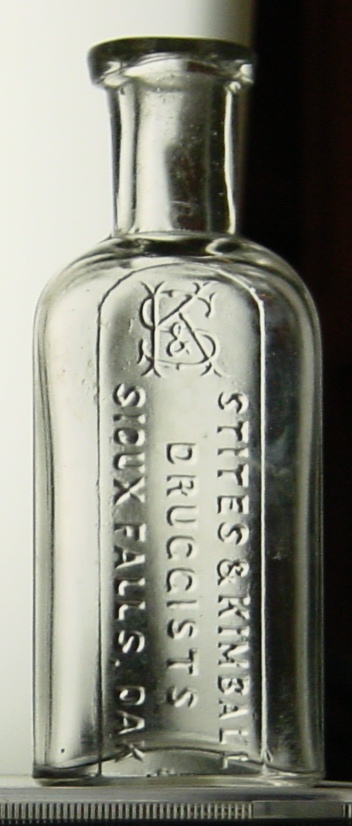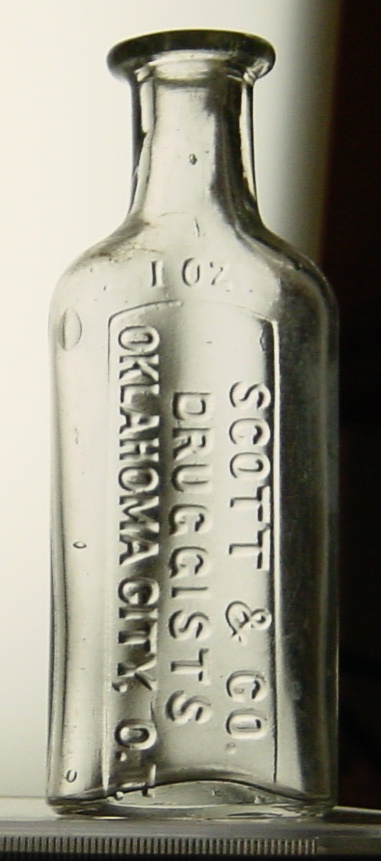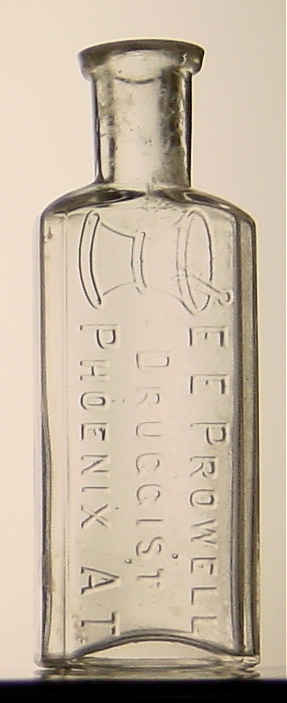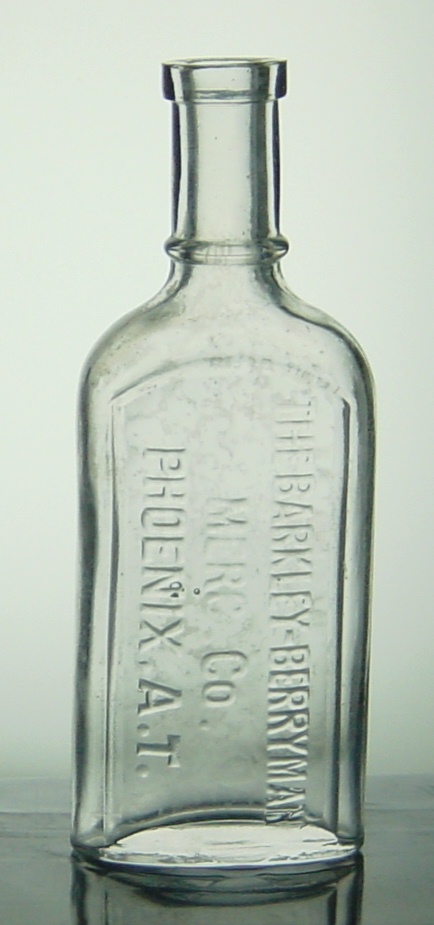 Territorial Druggists

Tacoma, Washington Ter.

  Cheyenne, Wyoming Ter.


  Purcell, Indian Ter.           Phoenix, Arizona Ter.


   Sioux Falls, Dakota Ter.

   Oklahoma City, Oklahoma Ter.           Phoenix, Arizona Ter.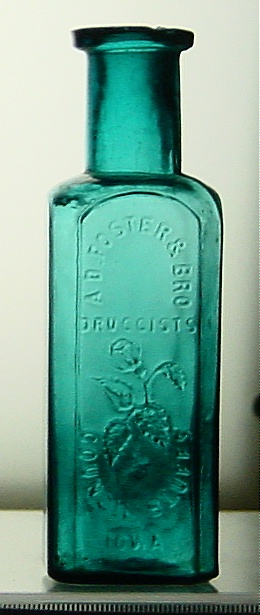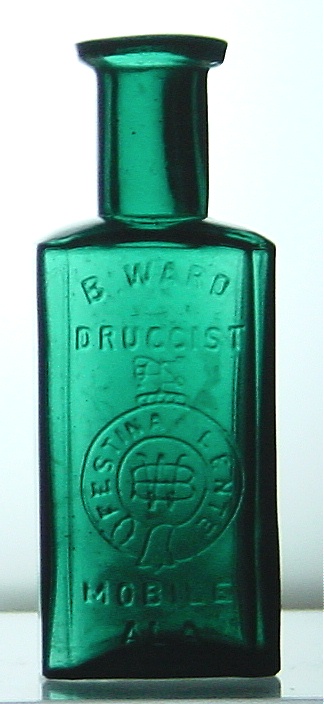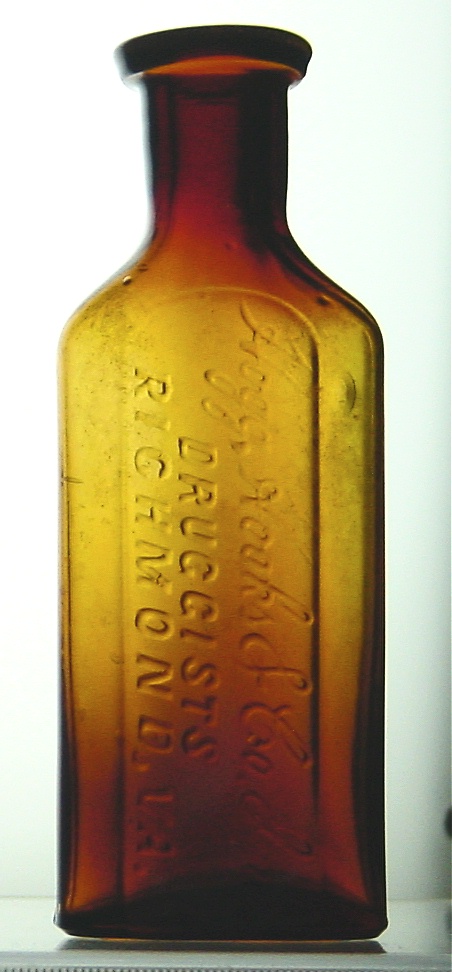 Colored Druggists

Portland, Maine




Cairo, Illinois



     Mobile, Alabama



  Richmond, Virginia



  Council Bluffs, Iowa


  Milwaukee, Wisconsin



  Omaha, Nebraska
***Wanted for the completion of our 50 state colored druggist collection***

1 Ounce or 1/2 ounce sizes only: Delaware, Montana, Nevada, New Mexico, North Carolina, North Dakota, Rhode Island, South Carolina, South Dakota & West Virginia

Will pay top dollar for any of these states or any other better items for our collections!